Shopclues is back with a Offer – This Time the "Sunday Flea Market Sale" Just got better by exclusive offers – Firstly 100% Cashback offer and Secondly 35% Additional Cashback offer!! Lets Find out more about this offer.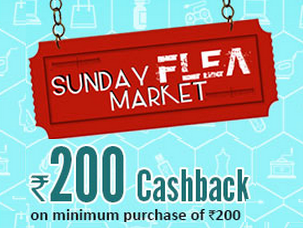 Get Flat Rs 200 Cashback on Purchase of Rs 200 or more + additional 35% Citrus Cashback. Grab this offer now, But Read full post to know about full Terms and Conditions!
Note – 35% Citrus Cashback is Valid on 13 September (Sunday) only & Cluebucks validity is 5 days only!
How to Get the Offer ?
Firstly visit the Shopclues Sunday Flea Market Sale Page
P.S. Buy Products from the Sale page only to grab your 100% Cashback.
Build up your Cart Value atleast Rs.200 (Excluding Delivery Charges).
Goto your Shopping Cart.
Enter or Update your Shipping address.
Coupon will we automatically applied on payment page.
Now Pay the amount using Citrus Wallet.
You will get Rs 200 Cashback from Shopclues in Term of Cluebucks after 10 days of order Delivery by Shopclues + Additional 35% Cashback from Citrus Wallet.
Get 35% Citrus Cashback up to Rs.75/- for shopping through mobile app or website of Shopclues and paying using Citrus Cash wallet on 13th September 2015!
Terms & Conditions:-
The 200 off on 200 offer is valid only on products exclusive to the Sunday Flea Market sale between the time period starting from 5 PM Saturday, 12th September 2015 to 5PM Monday, 14th September 2015.
This offer is redeemable in the form of Cluesbucks only. Instant cashback is not applicable for this product. Cluesbucks cannot be exchanged for cash.
This offer is valid only on Prepaid Orders. COD orders are not eligible for this offer.
This offer is applicable on all platforms (Desktop and Mobile) on Sunday Flea Market products only.
This offer is valid only once for each registered user. In case of fraudulent activity by the user including but not limited to creating duplicate accounts, aliasing, placing multiple orders or violating the Terms and Conditions, Shopclues reserves the right to withdraw the Cluesbucks accruable to the user at its sole discretion.
A minimum cart value of Rs 200/- spent exclusively on Sunday Flea Market products is mandatory to avail or be eligible for this offer.
The offer will not be valid for the below conditions:-
If the user's total cart value exceeds Rs 200/-, however the cart value of products exclusive to Sunday Flea Market is below Rs 200/-
If on cancellation of part of an order or complete order altogether, the user's Sunday Flea Market cart value goes under Rs 200/-
If user has redeemed his/her existing Cluesbucks while completing the order due to which the user's Sunday Flea Market cart value goes under Rs 200/-